Our dog sledding team is comprised of six to seven Siberian Huskies and Siberian Husky mixes. Our dogs come from shelters, rescues, and Siberian Husky breeders. Occasionally, we also have a few visiting sled dogs. For more information on all of our sled dogs, visit our dogs page.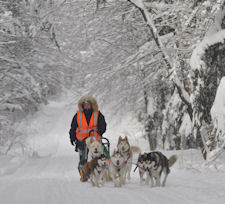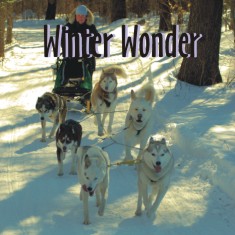 For 2013 - 2014, have a new lead dog, Vale, and a visiting team dog, Lumos, running with the team.
News and Upcoming Events
This year's Maine Winter Cabin Adventure is in the books! Our Maine Winter Cabin Adventure offers four days and three nights of total immersion into dog sledding based out of our cabin in Maine. If you are interested in registering for our 2015 Maine Winter Cabin Adventure, please email Catherine.
Can-Am 2014! Maryland Sled Dog Adventures is training for Can-Am Crown Sled Dog Races in Fort Kent, Maine. Sled dog dad, Eric, will hopefully be running the team in the Can-Am 30 mile race. Stay tuned for more details!
We are completely booked for our Maryland dog sledding programs for the 2013 - 2014 season. We do, however, occasionally have cancellations. Email Catherine to be placed on our 2014 - 2015 wait list. We notify individuals on our wait list should we have any cancellations. For information on how our wait list works, please vsit our FAQ page.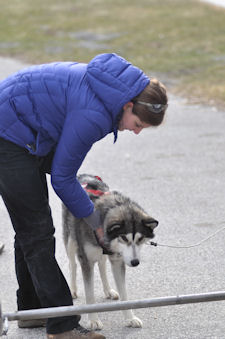 Dog Sledding comes to Maryland! No snow necessary.
Welcome to Maryland Sled Dog Adventures LLC! Come experience dog sledding (aka mushing) and sled dogs with Maryland Sled Dog Adventures LLC in the scenic hills of Baltimore County, Maryland. For more information on our dog sledding programs, visit our Tours page. For more information about the mushers, visit our About Us page. For details on reservations, please visit our Reservations page.
| | |
| --- | --- |
| We are a small micro mushing kennel of eight Siberian Huskies and husky mixes. Maryland Sled Dog Adventures LLC is central Maryland's only dog sled touring operation. Maryland Sled Dog Adventures LLC is fully insured and is a licensed Nature Tourism provider with the State of Maryland. | |
| | |
| --- | --- |
| | Maryland Sled Dog Adventures LLC specializes in dog sled rides and patch programs in dog sledding for Girl Scouts and Boy Scouts, and is an approved high adventure vendor and program partner with several local Girl Scout and Boy Scout councils, including Girls Scouts of the Nation's Capitol, and Girl Scouts of Eastern Pennsylvania. For more information on our dog sledding patch program for Girl Scouts and Boy Scouts, visit the patch program on our tours page. To see photos from our recent Girl Scout dog sledding programs, visit our gallery. To read what people are saying about our programs, visit our Bark Back column. |
| | |
| --- | --- |
| Maryland Sled Dog Adventures LLC also offers dog sled rides, dog sledding tours, patch programs on dog sledding for Girl Scouts, Boy Scouts, 4-H clubs, educational programs on dog sledding for home schoolers, and church groups, mush your own dog sled team experiences, and bikejoring, canicross and skijoring lessons. | |
| | |
| --- | --- |
| | We also do special events involving dog sledding including delivering Santa Claus, childrens' birthday parties and classroom visits to schools in the Baltimore, Maryland area. Our classroom programs on dog sledding are particularly appropriate for classes reading books by Robert Blake including Akiak and Togo, Gary Paulson's Dog Team, and Jack London's classic Call of the Wild and classes studying Iditarod. If you are a small school group (10 to 20 kids), we also offer dog sledding field trips. We've even visited local libraries with our sled dogs. Visit our tours page for more information or contact us for more information. |
| | |
| --- | --- |
| Got a high energy dog? Want to learn how to mush with your own dog? Check out our unique Run What You Brung program on our Tours page and try dog sledding with your own dog. Our Run What You Brung program provides introductory sled dog training for dogs that have not mushed before. | |
| | |
| --- | --- |
| | So I'm sure by now you are thinking: This is Maryland, what if there is no snow? Temperatures permitting, even when there is no snow, we can still go. When not running on snow, which is much of the time here in central Maryland, we dog sled using our three wheel and four wheel dog sled rigs (click for picture). In mushing, a wheeled cart used for dog sledding when there is no snow is called a "rig" or a "gig." Our larger rig allows us to carry a passenger seated on dog sledding tours and dog sled rides. The larger rig can be seen in our dog sledding gallery, which has pictures from past programs. |
| | |
| --- | --- |
| Do you have an adventurous spirit? Do you love dogs? Want to spend four days dog sledding on snow through the scenic Maine woods? If so, check out our special women's only Maine Winter Cabin Adventure and then email Catherine for more information and to register. Space is limited to only four participants. | |