Almost all of the photos featured on the Maryland Sled Dog Adventures LLC's website were taken by team photographer and sled dog dad, Eric. Taking pictures of dogs, especially working dogs, poses particular challenges. In most cases, the photographer needs to travel with the dog team, whether by dog sled, bicycle, cross country skis, or on foot. In many locations, there is only one shooting angle (down the trail) and only one chance for the shot. During most trips, Eric doubles as a handler for the dog sled team and as a photographer. Add in that the dogs really like to stop for their favorite sled dad and photographing the team becomes particularly challenging. Eric often serves as a freelance photographer during dog sledding and other dog related events. Strangely, it's often easier to take pictures of other people's dogs than your own. If you have an event and are interested in hiring Eric as your photographer, contact him at eric@marylanddogsledding.com. For additional samples of Eric's work, please visit our webshots gallery.


No, our dogs did not star in the movie by the same name, but they are "snow dogs." Northern breeds such as Siberian huskies, Alaskan huskies, and mixes love the snow.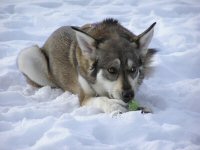 Sled Dogs in Action!
The dogs are the stars of Maryland Sled Dog Adventures LLC's programs. Separate galleries are provided for several of the major categories of programs we offer including Girl Scout and Boy Scout dog sledding programs, school programs, tours, and yappy hours.
| | |
| --- | --- |
| | |
| Vale romps in excitement before a dryland dog sledding run. | The six Siberian Huskies pull the dog sled and passenger through the snow near Freeland, MD. |
| | |
| Acadia and Ebony demonstrate lining out. | Vale and Beaver hold the team in position prior to a run in New Brunswick, NB |
| | |
| For every program, there are countless days of training. | Beaver looks stoic at the trailhead. |
| | |
| The sled dogs wait on the picket line before a run. | In New Brunswick, the sled dog team pauses several miles into a training run. |