Our dogs were a big part of our wedding in June 2005. Zoë and T-Bone also helped to ask the big question... T-Bone was "will you" and Zoë was "marry me," although we might have them flipped. In the wedding, T-Bone was the honorary best man, Zoë was the flower girl, and Sobo was the ring bearer.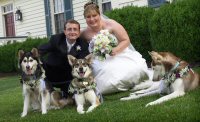 Drop lines are used to hold the dogs at the truck during down time. As a puppy, Okemo had a propensity for sleeping on the drop lines!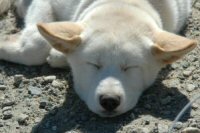 Yes, they do. Most dogs need to be trained to pull effectively and consistently. Some dogs seem to get the hang of it very quickly and become effective pullers.


The Maryland Sled Dog Adventures LLC sled dog team likes to meet and greet new faces.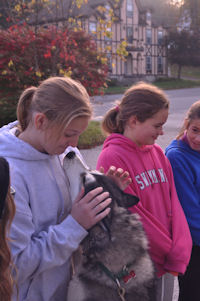 About Catherine, Eric, Ethan, Eloise, and Emmaline, your guides at Maryland Sled Dog Adventures LLC.
| | |
| --- | --- |
| Catherine is the CEO, legal advisor, guide, teacher, educational program leader, and musher for Maryland Sled Dog Adventures LLC. Catherine and Eric have one son, Ethan, and two daughters, Eloise and Emmaline, the mini mushers. Catherine got her start in mushing by pointing at a dog at the Baywater Animal Rescue in Cambridge, Maryland, and ending up with Zoë. (She made out in the transaction!) Catherine is a three time participant in Mushing Boot Camp (successfully, bringing back the same number of dogs and husbands as she left with). Catherine has two undergraduate degrees from the University of Michigan, including a Bachelor of Science Natural Resources in Environmental Policy and Behavior Management and also a Bachelor of Arts in Political Science. Catherine also has a Juris Doctor degree from the University of Washington School of Law and practiced law as a commercial litigator for seven years. She enjoys gourmet cooking, camping, hiking, traveling, and spending time with the mini mushers. | |
| | |
| --- | --- |
| | If Catherine is the CEO of Maryland Sled Dog Adventures LLC, Eric is the CTO (Chief Technical Officer), and CPO (Chief Poop Officer). A Professor at the University of Delaware, Eric brings too many years of formal education to the equipment end of things. Dog sledding is a bit like Harley-Davidson motorcycles - no one's set up is exactly the same and everyone has to customize their own. Eric routinely makes, customizes, or occasionally breaks equipment for the team. In addition to dealing with the dog sleds, dog boxes, dog rigs, hitch carriers, dog trucks, dog harnesses, gang lines, and similar, Eric is the primary photographer and website designer. Eric was active in Boy Scout Troop 50 (Wilmington, DE) growing up and spent summers at Camps Rodney, Mack, Henson/Naticoke, and others. Eric is BSA YPT trained and an assistant den leader for Pack 151. |
| | |
| --- | --- |
| Ethan is our oldest mini-musher. He helps with dog sledding, dogs, bowls, leashes, and equipment. Ethan knows all the commands. Ethan is looking forward to running his own sled dog team. Ethan was born in April 2011 and regularly participates in programs, events, and training runs. Ethan just started in Cub Scout Pack 151. | |
| | |
| --- | --- |
| | Our second mini musher is Eloise. Eloise loves to run around yelling 'Hike, Hike' and other dog sledding commands. Eloise routinely rides as a passenger on 30 mile runs. Eloise was born in January 2013. |
| | |
| --- | --- |
| Emmaline is our youngest mini-musher. Emmaline was born in December 2014 and is still trying to figure this dog sledding thing out, but she has already visited many states and two countries to go dog sledding. Oh, and she likes donuts. | |